Main content starts here, tab to start navigating
Menus
Bent Fork Bakery Holiday Menu
Just call 847-926-4438 to order.
Available December 8th-24th
For Christmas Eve Pick-up, please order by the 19th. Open 8-1
We reserve the right to limit quantities
In addition to our regular menu, we also offer:
Buche De Noel Yule Log
Chocolate or yellow cake filled with either peppermint or mocha buttercream,
Decorated in chocolate frosting with fondant decoration feeds 8-12 $34
Peppermint Ho-Ho Cake
Chocolate Cake rolled with peppermint whip cream, covered in chocolate & peppermint decoration feeds 8-12 $30
Egg Nog Cheesecake shortbread crust 10" $30 feeds 8-14
Cranberry Cheesecake graham crust 10" $32 feeds 8-14
LAYER CAKES 6" $28 8" $35 10" $45 12" $60
Fantasy Peppermint Chocolate Cake
2 layers of rich chocolate cake with peppermint buttercream frosting & crushed peppermint candy.
White Chocolate Pistachio Cake
2 layers of pistachio cake with white chocolate buttercream, dusted with crushed pistachios & white poinsettias.
Holly Jolly Christmas Cake
Choice of white or chocolate cake with vanilla buttercream frosting (see online photo)
Mom's Chocolate Christmas Cake
2 layers of incredibly moist chocolate cake with whip cream filling, frosted with chocolate butter cream, dripping with chocolate ganache! Decorated with glittery snowflakes.
PIES
Perfect Pumpkin Pie-Traditional style pumpkin pie, homemade crust, with just the right spice! $15 feeds 6-8
Caramel Apple Crostata or Cranberry Apple Crostata-All butter rustic pie, fresh apples & cinnamon crumb topping $15 feeds 6-8
Southern Pecan Pie -gooey pecans, a hint of rum. $20 feeds 6-8 Mini's $5
Fruit Pies- Mom's Apple, Door County Cherries, Mixed Berry Pie, or Mincemeat, all butter crust pie $20 feeds 6-8
Chocolate Mousse pie- with oreo crust & fresh whipped cream top. $24
County Fair Caramel Apple Pie $23 feeds 6-8 Our sugar cookie crust with lot's of fresh granny smith apples, extra crumb topping & homemade caramel drizzle
Bar & Cookie Platters-Assortment of all our cookies & bars small $25 Medium $40 Large $60 XL $75 XXL $100
Decorated Cookies $2 Snowmen, Candy Canes, Trees, Snowflakes, Mittens, Gingerbread People & More, Real Gingerbread Men $2.75
Snow balls & Thumbprints $1.25 each
Butter Cream Cupcakes-Assorted seasonal flavors $2.50 & up.
COOKIE DECORATING KITS
Choose either Gingerbread men, Hannukah or Christmas
As shown below $18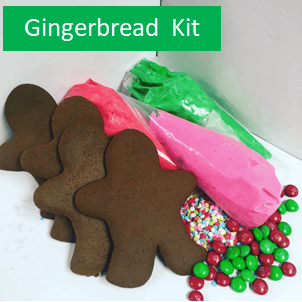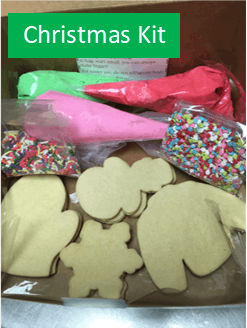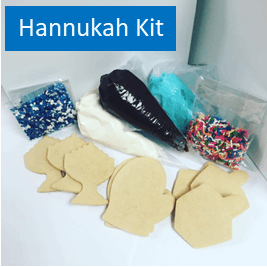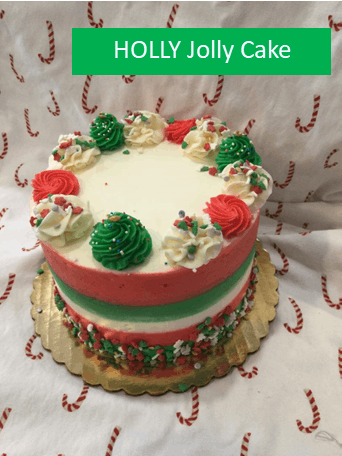 Slide 1 of 6
Slide 2 of 6
Slide 3 of 6
Slide 4 of 6
Slide 5 of 6
Slide 6 of 6
Wedding Cake Pricing
Level One

Minimal Decoration, Buttercream Frosted

per person $4.25

Level Two

Advanced Decoration, Buttercream Frosted

per person $5

Level Three

Advanced Decoration, Buttercream Frosted, Gumpaste Flowers

per person $6

Level Four

Minimal Decoration, Fondant

per person $8

Level Five

Advanced Decoration, Fondant

per person $10
Cake Flavors
White, Yellow, Chocolate, Strawberry, Banana, Coconut, Lemon, Pumpkin, Pistachio, Pound, Carrot
Fillings
Buttercreams

Vanilla, Chocolate, Fresh Raspberry, Lemon, Fresh Strawberry, Cream Cheese, Oreo, Mocha

Other Fillings

Chocolate Mousse, White Chocolate Mousse, Lemon Curd, Raspberry Mousse, Lemon Mousse, Fresh Berries
Buttercream Frostings
Vanilla, Chocolate, Lemon, Cream Cheese, Almond, Shredded Coconut, Tinted Colors
Cake Guide: 2 layer
6" Serves 12

8" Serves 18

10" Serves 24

12" Serves 46
Cookies
Prices are for regular size, 'mini's' are available too!
Chocolate Chip Cookies

$1.10

Dipped $1.50

Ginger Molasses

$1.10

Frosted $1.50

Oatmeal Cranberry Pistachio White Chocolate

$1.35

Oatmeal Raisin

$1.10

m&m

$1.25

Oh My Chocolate

$1.10

Tons of Toffee

$1.35

Sprinkled Sugah

$1.10

Peanut Buttah-White Chocolate Toffee

$1.35

Double Dipped Peanut Buttah Cookies

$1.75

Snickerdoodles

$1.10

Smiley Face

$2

Cherry Pistachio Biscotti or Apricot-Sesame-Cashew Biscotti

$1.50

Dipped Chocolate Chip Macaroons

$1.50

Rugelach

cinnamon-raisin, raspberry-chocolate chip, apricot-walnut

$1.25

Kolachy's

apricot or raspberry

$1.25

Peanut Buttah Buckeyes

$1.50

Iced Soft Pumpkin Cookies

$1.50
Bars
All bars can be cut in half for a 'mini' size
Intense Brownies

$1.85

Caramel Walnut Brownies

$2

S'mores

$2

Carmelita's

$2

PBJ Bars

$2

Sunny Lemon Bars

$1.85

7th Heaven Bars

$2

Raspberry Crumb Bars

$1.85

Coconut White Chocolate Blondie's

$1.85

Butterscotch Blondie's

$1.85

Cherry Pie Bars

$2

Apple Pie Bars

$2

Caramel Apple Crumb Bars

$2

Pumpkin Squares

Pumpkin Pie meets our soft buttery crust!

$2.50
Platters
All platters include a generous assortment of our most popular cookies & bars from above!
Our Platters are made up of only our best selling cookies and bars. Cookies are available in mini or regular, but the bars are always mini size.

18 regular pieces or 25 mini's

tray feeds 6-9

$25

32 regular pieces or 42 mini's

tray feeds 10-16

$40

42 regular pieces or 54 mini's

tray feeds 16-25

$50

64 regular pieces or 82 mini's

tray feeds 25-34

$75

88 regular pieces or 114 mini's

$100
Breakfast
Tea Breads

Banana or Banana Chocolate Chip, Pumpkin or Pumpkin Chocolate Chip $5.50

Lovely Lemon bread $6

Scones

Triple Berry, Cinnamon Chip, Chocolate Chunk $2.50

Mini's $1.25

8" Round Coffee Cakes

Buttermilk with Cinnamon Crumb top or Banana Chocolate Chip $12

8" rounds Fruit Streusel,Apple, Cherry, Blueberry, or Peach $13.50

Muffins

Blueberry, Cherry Almond, Cranberry-Walnut, Lemon-Poppy, Raspberry-Chocolate, Cherry-Chocolate Chunk, Almond Poppy

Large $3

Small $1.50

Sticky Cinnamon Rolls

Large $3.50

Small $2

Cinnamon Donut Muffins

$3.50
Cookie Cakes
Chocolate Chip or Old Fashioned Sugah
Flowers, Polka Dots, Sports or Balloons & Inscription.

10" (8-14) $23

1/2 sheet (15-25) $35
Cupcakes
Not all flavors available in store every day, Custom Cupcakes to order!
Buttercream Cupcakes

Yellow/Vanilla, Chocolate/Vanilla, Yellow/Chocolate, Chocolate/Chocolate, Pumpkin, Red Velvet, Carrot, Cookies & Cream, Chocolate Malt, Peanut Buttah, Banana/Chocolate, Coconut, Lemon Oh!, S'mores, Strawberry Fields, German Chocolate, Salted Caramel, Funfetti, Toasted Almond, Chocolate with Coconut

Mini's (minimum 6 per flavor for mini's only) $1.25

Cupcakes start at $2.50

Baby Cakes $3.75
More Pastries
Whoopee Pies Chocolate or Vanilla

$2.50

Mini's $1.50

HoHo's

$2.95

Mini's $1.50
Lolli Pops
Cheesecake Lollipops

$1.50

Cookie Dough Lollipops

$1.50

Rice Krispy Lolli's

$2.25

Mini's $1.25
More...
Flourless Chocolate Cake

$34
Pies
Fresh Fruit Crostata's

A rustic style open face pie with an all-butter crust! Apple, Caramel Apple, or Mixed Berries.

Feeds 6-8 $14

Mini's each $3.75

Fruit Pies

Door County Cherry, Fresh Blueberry, Mom's Apple

10" Full Size feeds 6-8 $18 - $20

Mini's personal siz $4.50

Other Pies

Key Lime Pie $14

Southern Pecan Pie $20

Mini Pecan Pie $5
Shortbread
Decorated Shortbread Starting at $2
Not all styles & colors in store every day, call ahead for special designs.

Flowers, Butterflies, Cupcakes, Baseballs, Footballs, Basketballs, Baby Bottles, Baby Buggies, Onesies, Wedding cakes, Wedding Dresses & MANY more!
Basic Cakes
Layers

Chocolate, Yellow, or White cake.

Buttercream Frostings / Fillings:

Chocolate, Vanilla, Raspberry, Strawberry, Lemon, Oreo, Marshmallow, Cinnamon Cream Cheese

Special Fillings:

Lemon Curd, Fresh Whipped Cream, Chocolate Mousse, Fresh Strawberries, Raspberries, or Banana Slices
All Cakes are 2 Layers
6" (feeds 4-8)

$23

Special Filling $3

8" (feeds 8-12)

$28

Special Filling $4

10" (feeds 12-20)

$35

Special Filling $5

12" (feeds 25-35)

$48

Special Filling $6

1/4 sheet 2 layers feeds (25-36)

$48

Special Filling $7
Specialty Cakes
All cakes are 2 layers, any cake can be written on.
Any decoration other than stated will be an additional charge.
6" feeds 4-8 $26

8" feeds 8-12 $32

10" feeds 12-18 $40

12". feeds 24-36 $52

1/4 sheet feeds 30-40 $52
Toffee Carrot Cake

Carrot cake with creamy toffee filling & cinnamon cream cheese frosting, Made with pecans, coconut & pineapple. Decorated with carrots

Mrs. Beebe's Lemon Cake

Lemon cake, lemon curd center & lemon buttercream frosting, decorated with white buttercream daisies

Grandma El's Coconut Cake

Moist coconut cake, coconut buttercream, covered with shredded coconut, with writing on top

Banana Fudge Cake

Banana cake, fudgy frosting, filled with banana slices, topped with chocolate buttercream swirls & confetti sprinkles

The Paisley Jane

Moist yellow cake with chocolate mousse filling, chocolate buttercream and chocolate rosettes on top

German's Chocolate Cake

Chocolate cake, gooey coconut pecan filling & topping chocolate buttercream sides topped with chocolate swirls

Cookies & Cream Cake

Chocolate cake with cookies & cream filling & frosting. Decorated with vanilla swirls & mini Oreo cookies
Salted Caramel Cake

Chocolate Cake with caramel filling & salted caramel buttercream, drizzled with salted caramel, chocolate piping deco

Chocolate Malt Cake

Chocolate cake with chocolate malt filling and frosting. With vanilla swirls & chocolate malt balls

Strawberry Fields

Fresh strawberry cake, fresh strawberry frosting, whipped cream & fresh strawberry filling, topped with vanilla swirls

Funfetti Fantasy

White cake baked with rainbow sprinkles in the batter! Filled & frosted with vanilla buttercream, rainbow sprinkles on sides with rainbow dots on top

Toasted Almond

White Almond cake with Almond buttercream, sides coated in toasted almond crunch

The Sofie

White Wedding cake with Chocolate Mousse filling, frosted with Vanilla Buttercream, topped with Chocolate Ganache & buttercream swirls

Peanut Butter Rules

Chocolate Cake filled & frosted with Peanut Butter Buttercream, ganache poured over the top. Decorated with Reese's PB cups!

The Sheffield

White wedding cake filled with fresh raspberries & lemon curd. Frosted in pale yellow lemon buttercream and finished with shades of pink rosettes.

Rainbow Dream Cake

5 layers of cake, red, orange, yellow, green & blue! With vanilla buttercream sprinkles in between the layers. Frosted in vanilla buttercream and covered in rainbow sprinkles. Add Pinata Sprinkle filling for a fun surprise! 8" $60, 10" $80, 12" $100 add Pinata Core of Sprinkles $15
Vegan and Gluten Free
Every day in our store we have vegan brownies, gluten free brownies and gluten free cookies. You can order these options ahead of time:
Vegan
Assorted Cupcakes (minimum of 6 per flavor)

Chocolate, vanilla, carrot, strawberry, banana.

$3

Assorted Cookies

Ginger, snickerdoodle, choc chunk

$1.35

Pumpkin Bread (8 slices)

chocolate chunk, walnut or pecan

$12

Banana Bread (8 slices)

Chocolate chunk, walnut or pecan

$12

Scones

Triple-berry, lemon-blue, cherry-almond, cherry-chocolate

$3

Fudge Brownies

$2.25
Gluten Free
Assorted Cupcakes (minimum of 6 per flavor)

Chocolate, vanilla, carrot, strawberry, banana

$3

Assorted Cookies

Tons of toffee, ginger, snickerdoodle, choc chunk, sugah

$1.35

Fudge Brownies

$2.25
Vegan and Gluten-Free
Banana Chocolate Oat Cake 8"

$14

Blueberry Banana Oat Cake 8"

$14
Vegan OR Gluten Free
Layer Cakes

Can be ordered GF or Vegan. Cake Flavors: Chocolate, vanilla, banana, carrot or strawberry Fillings & Frostings: Vanilla, chocolate, strawberry, lemon or raspberry buttercreams.

6" $28

8" $34